Photo: Sebastién Descamps (NPI)
III – Project execution
To make your landing (and your stay) in Ny-Ålesund as efficient as possible, part three of the Researchers' Guide provides you with practical information regarding daily life and activity in Ny-Ålesund.
Table of contents:
Avoid introducing invasive alien species
Invasive alien species are a significant threat to native biodiversity and ecosystems. There are currently few invasive alien species in the Arctic, but more are expected to come due to increased activity in the region. The most effective action to protect the Arctic from the impact of alien species is to prevent the introduction of the potentially harmful alien species in the first place. The simplest measures you can take is to make sure you don't bring any stowaways with you. Brush, hoover and wash your bags, clothes, shoes and equipment before leaving home. More information on this topic can be found on https://www.stoparcticaliens.com.
Flight and arrival
Lufttransport operates the route between Longyearbyen and Ny-Ålesund. The flights are depending on the current weather situation and changes in departure time might occur.
Read more about the flights between Longyearbyen and Ny-Ålesund and accomondation in Ny-Ålesund
In-brief at your host institution
When you arrive at the Service Building (currently Kongsfjordhallen due to renovation) in Ny-Ålesund you will be met by a representative from your host institution. Your host will give you an in-brief including all local information that you need to know for your stay in Ny-Ålesund. The In-brief will cover as a minimum the following issues:
Restriction on radio frequency use
Fire regulations and procedures
Ny-Ålesund safety policy and handling of weapons
Ny-Ålesund rules; location of bird reserves, restricted access areas, snowmobile routes, etc
Airport regulations
Ny-Ålesund accident and incident policy
Risk assessment (including local field hazards)
Boating regulations
Lab and chemical safety
Medical care
Waste management
(An example is given in the NPI in-brief.)
Practical information from Kings Bay
Kings Bay AS is a limited company that is owned by the Norwegian Ministry of Climate and Environment. The company owns and operates Ny-Ålesund, and its main task is to manage the property and sell infrastructure services to Norwegian and foreign research institutions.
Get more practical information from Kings Bay
Use of radio for communication
Each host institution is equipped with VHF radios that monitor an internal channel and international emergency channel 16. When personnel are in the field the station radio will be monitored.
Special restrictions in Ny-Ålesund
To protect the vulnerable natural environment and the research sites in and around Ny-Ålesund, regional and local restrictions apply.
Nature reserve and national parks
Ossian Sars-fjellet is a nature reserve. It is not allowed to make a fire, or make camp.
To visit Prins Karls Forland and Nordvest Spitsbergen National Park in the summer you need to fill out a form from the Governor of Svalbard before you go. This form is available in the reception area in the Service Building (currently Kongsfjordhallen).
Bird sanctuaries
There are three bird sanctuaries in Kongsfjorden. The sanctuaries include the islands and the surrounding sea, 300 meters from the shore. No traffic is allowed in the sanctuaries between the 15th of May and the 15th of August. The banned activity includes boating, kayaking and disembarking. Any scientifically warranted visit in the sanctuaries during this time period requires specific permission from the Governor of Svalbard.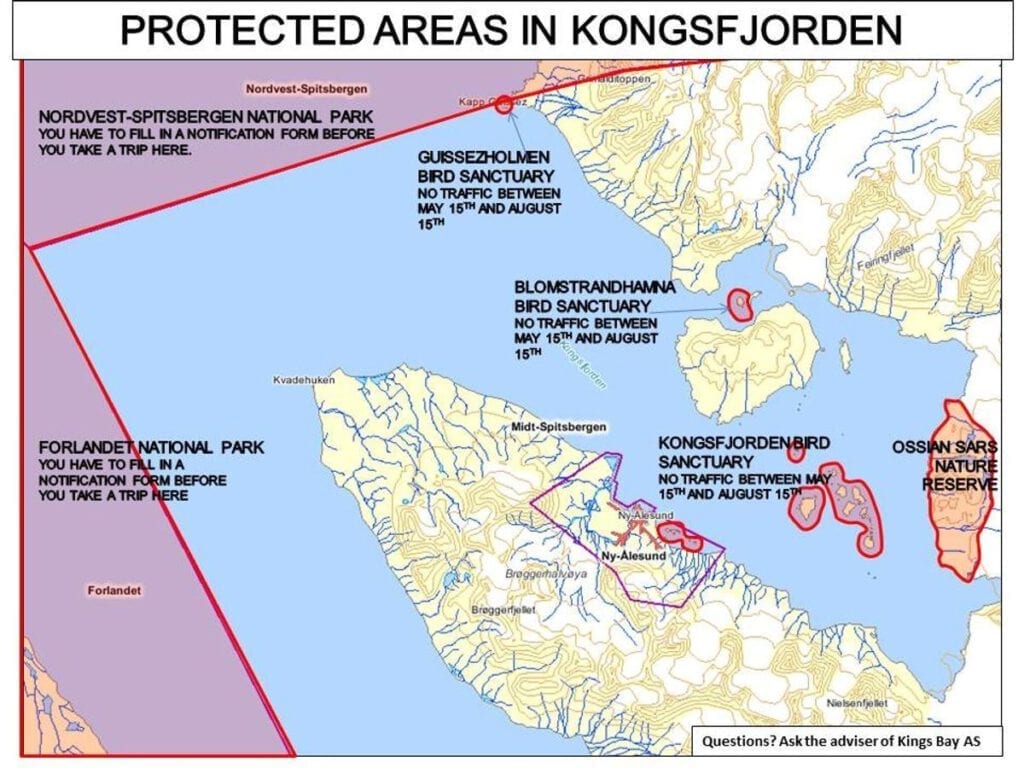 The area surrounding Solvatnet and Thiis-bukta (see map below) are local bird sanctuaries. Traffic in these areas is not permitted between the 15th of May and the 15th of August.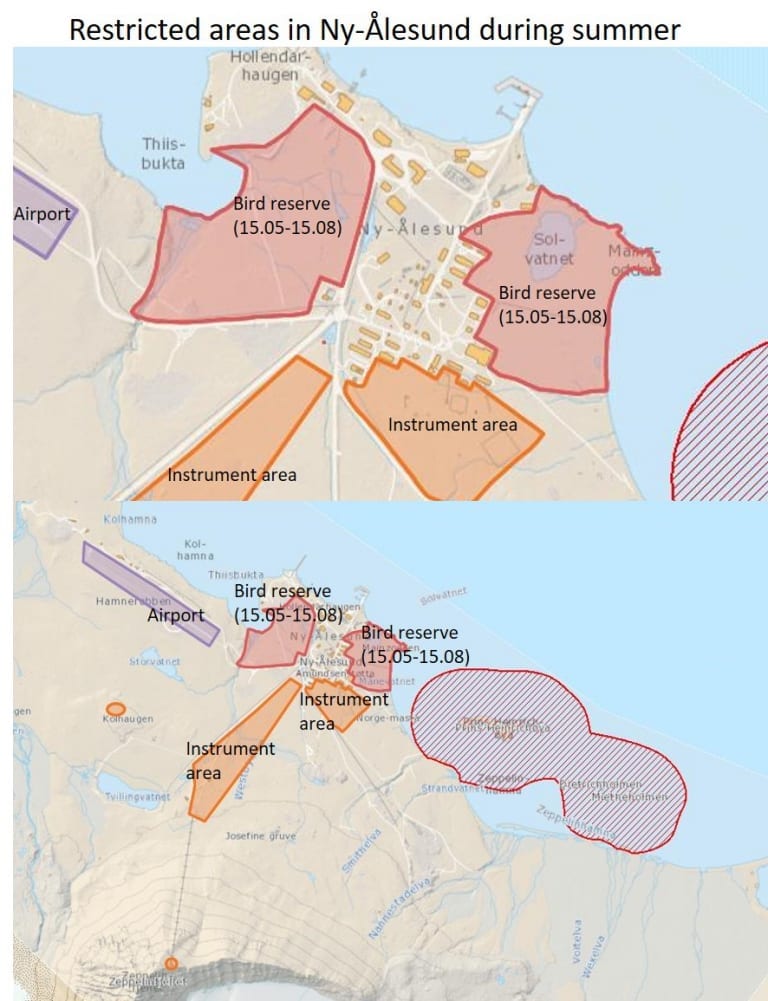 Instrument areas
In Ny-Ålesund some specific areas are reserved for scientific instruments. Do not enter the instrument areas unless you have to maintain or look after your own instrument. If you need to go inside the instrument area, please pay close attention to the other instruments there, some might be difficult to see.
As a main rule, keep to the roads while walking in town. The tundra is vulnerable and might contain instruments, field locations or fragile cultural heritage that are hard to spot. In the winter, you are required to use the dedicated snowmobile routes for travel to and from Ny-Ålesund.
No activity is allowed within a 100 meter radius from the Zeppelin Observatory.
Snow sampling areas
Areas east of the Old Post Office, east of Italy building and the AWIPEV observatory, and east of Gruvebadet are dedicated for snow sampling throughout the winter season, and should not be entered. The use of snowblower is also restricted to avoid contamination of these areas.
Restrictions in Kongsfjorden
Kongsfjorden is also protected against fishery activities. There is a ban on all commercial trawl fisheries. Fishing by trawl includes also similar activities that could damage the bottom conditions in the fjord, including trawling for seaweed, kelp, and shells.
Fishing for scientific reasons or whale hunting is not included in this regulation.
Use of airspace
If you plan on using the airspace in Ny-Ålesund – for instance for flying drones, launching balloons etc. – there are several regulations and guiedlines you need to follow.
Read more about the use of scientific unmanned aerial systems from Ny-Ålesund
Use of radio equipment
In general there are restrictions on use of radio frequency in Ny-Ålesund. But, if you need to communicate with your instruments or measurement systems using radio frequency, you need to adhere to some rules and guidelines.
Read more about the restrictions on the use of radio emitting devices
Research coordination on-site in Ny-Ålesund
Weekly meeting
Local leaders or senior representatives from the research institutions present in Ny-Ålesund, together with representatives from NPI and KB, meet on a weekly basis – every Wednesday morning. NPI chairs the meetings.
The purpose of the weekly meeting is to exchange information about ongoing and planned research activities, to coordinate ongoing research activities and the use of shared facilities in Ny-Ålesund, and to follow up any action items. The goal is to further improve on-site awareness, coordination and collaboration, and to facilitate efficient and sustainable use of the research infrastructures in Ny-Ålesund.
Popular science talk
All visiting researchers are encouraged to take the opportunity to present their work by giving a "Popular Science Talk" while staying in Ny-Ålesund. The popular science talk is a short presentation, 20-30 minutes plus questions and answers, giving an overview of your research/monitoring activity to the community. This is a great opportunity to share information and connect with other researchers and the staff in Ny-Ålesund.
If you want to contribute to this, write an email to Research.Nya@npolar.no.
Safety
Operating in Ny-Ålesund have risk assosiated with it. Particularly when operating in the field, due to changing and extreme weather conditions, the physical environment, and polar bears, but also related to lab work within Ny-Ålesund, and risk assessment is an important part of planning and carrying out your project in Ny-Ålesund.
Read more about staying safe while in Ny-Ålesund
Rental of firearms
Carrying out field work outside of Ny-Ålesund, you will are required to bring with you appropriate means for frightening and chasing off polar bears – typically a flare gun, and a rife. In order to rent a rifle, there are a set of formal requirements that you must meet, and an application process you must complete well in advance of your arrival in Ny-Ålesund. You will find detailed information on how to go about renting a rifle here.
Reporting of accidents and incidents
Incidents and accidents should be reported to Kings Bay using the form available from the Kings Bay Reception. (An example of the type of incident that should be reported is if a rifle is accidentally fired somewhere other than the shooting range.)
Registration of discrimination and harassment
We work on setting up a common system for registration of discrimination and harassment in Ny-Ålesund. Please report your incident to our system (in addition to procedures you may have at your employer).
Social activities and leisure time
The social activities arranged in town are open for all, also visiting scientists. There is a museum in town which is open 24/7 with free admission.
Velferden is open for everyone staying in Ny-Ålesund, and runs a gym, has a jacuzzi, lends out boats and kayaks and arranges social gatherings (pub), etc. Velferden also administers access to a number of cabins in the area which can be used in your spare time (map of Velferdens cabins). Lists for reservation of boats, kayaks and cabins can be found on the board in the reception area every Monday.
Check out
Just as important as checking in when you arrive, is checking out when you leave. Please clean up the used areas, sort and recycle your garbage, and agree with your host institution or Kings Bay how to get rid of any hazardous waste. You should also return rented equipment to your host institution and/or to Kings Bay.
Please agree on a specific time for check-out from labs with the Kings Bay lab engineer (engineer@kingsbay.no).
Also agree on a check-out time with the institution hosting your project. Please update the institution on your work, and update the Ny-Ålesund GIS system (if needed).
Departure
Luggage must be checked in at the reception no later than one hour prior to departure time from Longyearbyen, and passengers must be in the reception area 15 minutes prior to departure from Ny-Ålesund.
Read more about flights between Longyearbyen and Ny-Ålesund
Next chapter
Did you find what you were looking for?