Photo: Dagmara Wojtanowicz
Gruvebadet Atmosphere Laboratory
Gruvebadet is an atmosphere laboratory and observatory located midway between Ny-Ålesund, the Zeppelin observatory and the Climate Change Tower. The building currently hosts instruments for among others aerosols sampling.
Gruvebadet Atmosphere Laboratory is located about one kilometer south of Ny-Ålesund, situated at the feet of Zeppelin Mountain. The influence of Ny-Ålesund is minimal due to the wind regime. The Gruvebadet Atmosphere Laboratory is dedicated to the study of the atmospheric composition with a particular focus on aerosols. The location of the laboratory is interesting also for remote sensing since the luminous pollution from Ny-Ålesund is reduced. The surrounding areas are used for research, particularly for snow studies. Gruvebadet, the Zeppelin Observatory at 472 masl, the CNR Climate Change Tower and AWIPEV Atmsophere Observatory are the main atmosphere research facilities in Ny-Ålesund.
In order to promote better coordination of activities for current users of Gruvebadet and allow simpler access for new users, the Gruvebadet Lab meeting was initiated in 2019 by the user groups of Gruvebadet, including NPI and Kings Bay. Currently the Gruvebadet Lab meeting are working on procedures for access and term of references.  
Owner: Kings Bay AS
Contact person infrastructure: Kings Bay Research Adviser (+47 7902 7252 / research@kingsbay.no)
Contact point Gruvebadet Lab Meeting: Maura Mazzola, CNR (mauro.mazzola@cnr.it)
Procedures for use
The procedure for use contains two step;
Scientific justification and coordination with other users of Gruvebadet. Complete the Registration Form and sending it to Gruvebadet Lab Meeting contact point.
Based on the dialog with Gruvebadet Lab meeting, details regarding rental of infrastructure can be concluded with Kings Bay research advisor.
Main focus area
Atmospheric research. Today Gruvebadet has activities from CNR, NCPOR, NIPR, KOPRI, FMI and UiT. A detailed list of observations (and corresponding instruments) currently ongoing in Gruvebadet can be found through the Ny-Ålesund GIS in Svalbardkartet.
A quick-guide to use the search function: In the toolbar in the top left corner – Choose Find Data, and press the Magnifying glass with question mark. Set the data source to Science objects – Current. Now you can design your search, by using the AND and OR search, and add as many conditions and subclause as you like. You can search in all of the defined attributes. The search Observatory=Gruvebadet provides a list of current instruments in Gruvebadet. More about the Ny-Ålesund GIS is found under Infrastructure-Tools.
Facilities
Gruvebadet consists of five rooms for instruments, where three rooms have inlets from the roof. The rooms are furnished with desks for instruments.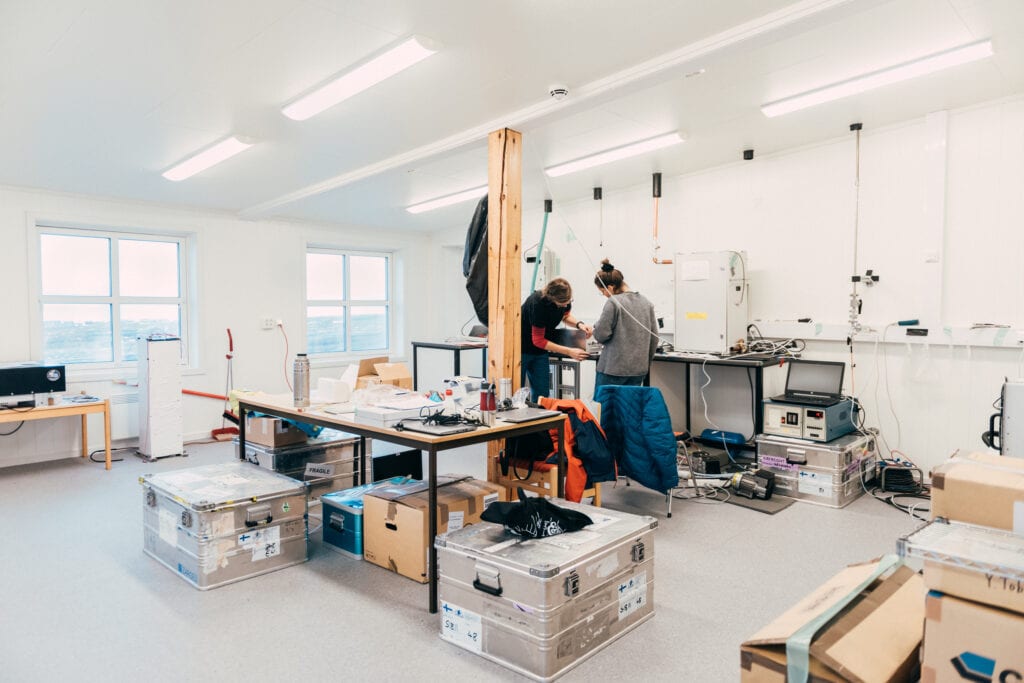 Did you find what you were looking for?