Nutrients in the Arctic – workshop to increase the links between the four flagship programs in Ny-Ålesund
Start: 20.09.2022
Ends: 22.09.2022
Time: 09:00 - 17:00 GMT+02
Place: Orvieto
The project Nutrient cycle – linking the Atmosphere, Terrestrial, Marine and Glaciological flagship programs in Ny-Ålesund will bring together all four Ny-Ålesund flagships to evaluate nutrient fluxes between Kongsfjorden and its surrounding environment – terrestrial, glacier, atmospheric and ocean realms – and how some of these fluxes are expected to change with the ongoing warming trends.
Over the past two years the project has arranged: 
Online keynote seminars (October 2020)  
A one-day workshop in Oslo, 31 Oct 2021. The workshop focused on the two topics: Kongsfjorden net ecosystem metabolism, and Nutrients, carbon and nitrogen in atmosphere, biosphere and soil continuum  
Read more and see recordings of the keynote seminars here.
Next up coming is a three-days workshop in Orvieto, Italy 20.-22. Sept 2022.
Workshop program
Registration
The registration is now closed, 32 has registered to participate.
Venue
Orvieto is a small town in the centre of Italy (around 100 km North of Rome). Orvieto has a historical medieval city centre, where the accommodation and the dinners will be organised. The workshop will be hosted by the Research Institute on Terrestrial Ecosystems of the National Research Council at the headquarter at Villa Paolina, in Porano (around 10 km far from Orvieto). We will arrange for shuttle transfer between Orvieto and the venue during the workshop.
How to get there
The easiest way to reach Orvieto from abroad is to arrive with plane to Rome and then take the train to Orvieto.
Accommodation
Orvieto has a historical city centre up on a hill, and there are several possibilities for hotel room. We will book hotel for all the participants.
Costs and funding possibilities
The workshop is free of charge and includes lunches, coffee breaks and dinner on the 20th and 21st September. We will also cover the hotel costs for four nights 19-23 September.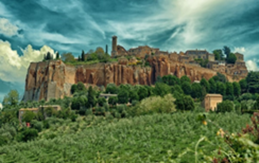 Did you find what you were looking for?